CONGRATULATIONS ON YOUR UPCOMING WEDDING!
"My philosophy is that committed love between two people creates a sacred union that adds a dimension of holiness to our world. This kind of relationship cannot be categorized by religion or culture, or defined by a person's sex or race. Love will not be ruled by prejudice and stereotypes. I've joined hundreds of couples in marriage, from all backgrounds, faiths and traditions and I support marriage equality." - Rev. Laurie Sue Brockway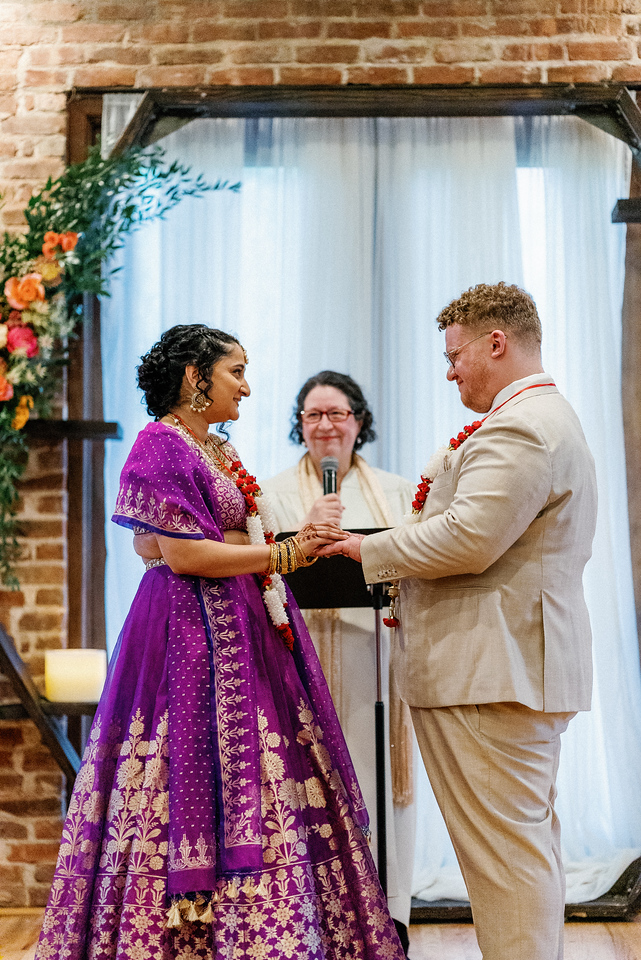 Hi Reverend!
"We wanted to say, genuinely, THANK YOU. ❤ The care you took to understand us, to include our families, to guide us through the process – it made all the difference. Our ceremony was beautiful and perfect, and we couldn't have done it without you. You gave us some precious memories. Thank you so much, you're the best!!!"
- Kavya & Leighton
Need Help Writing Your Own Ceremony?

Reviews from 'THE KNOT' by Couples Who Have Worked with Rev. Laurie Sue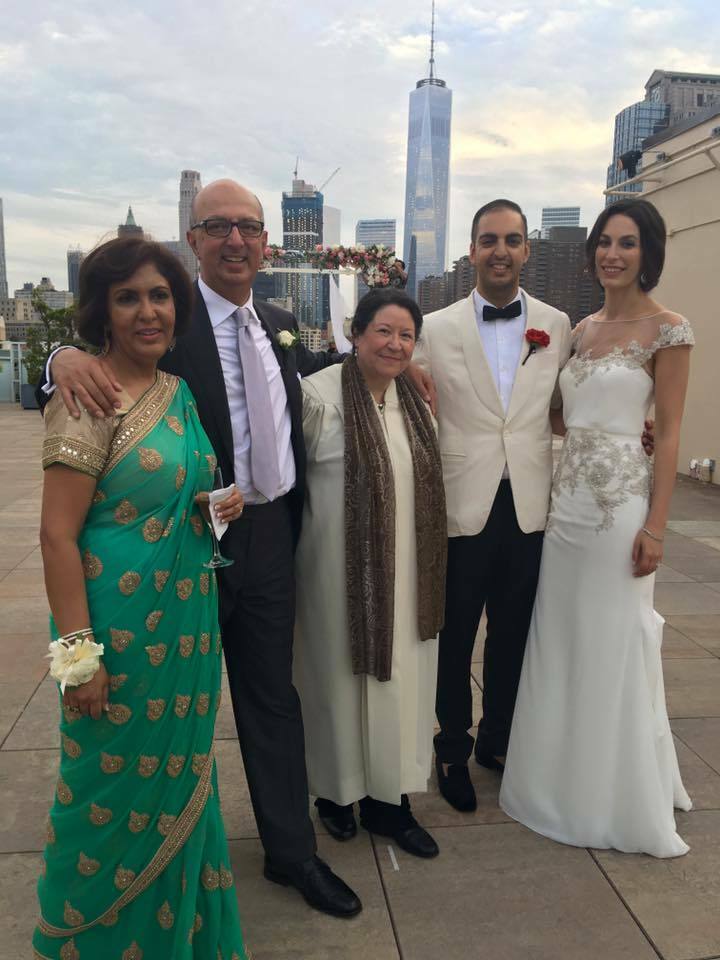 Hi Rev Laurie Sue,
Our wedding ceremony was absolutely perfect. Thank you so much for all of your hard work and dedication. Several family members told us it was the most beautiful ceremony they had ever seen. I don't think there was a dry eye in the house. You are such a kind, beautiful soul and you really helped to make our families and traditions come together flawlessly. Thank you for making our dreams come true. It was everything we could have wanted. We are forever grateful for your love and support. Thank you endlessly for everything.
Love, Rachel and Ranjan
A Beautiful Ceremony and Process
Reverend Laurie Sue is the absolute best! We reached out to her for help with our intercultural Hindu and Christian ceremony. From the start, we knew we had made the right choice. The Reverend took so much time to understand our backgrounds, got to know our moms, and led multiple rehearsals so everyone knew what they were doing. She offered us several drafts of the ceremony for review and was so thoughtful about taking our feedback. I don't know how, but in the end, she tied everything together in a beautiful 30-minute ceremony that felt so reflective of the two of us. She respected that neither of us were especially religious, while bringing in meaningful aspects of both cultures that made the rituals feel "real". She truly honored our backgrounds and our love story. We can't thank her enough for the months she spent working with us. We would HIGHLY recommend Reverend Laurie Sue to anyone looking for an empathetic, caring, and joyful officiant!
06/02/2023
Our Fabulous Officiant and Meaningful Ceremony
My husband and I are of differing faith backgrounds and we were searching for an officiant who would offer a spiritual ceremony that paid subtle tribute to both of our faiths. What we received with Laurie Sue Brockway was nothing short of perfect. She is a lovely, warm woman with a gentle and kind voice and spirit. She was willing to custom create our ceremony to include exactly the elements that captured our style and personalities as well as various traditions from our faiths. The end result was very special and unique blend of traditional and modern, east meets west, while remaining respectful, spiritual, and personal. All family members from both families were so impressed at the way all of our traditions were intertwined throughout the ceremony. Additionally, we were moved to tears by the lovely things that Laurie Sue wrote in her message. Absolutely recommend Laurie Sue 100%!!
Wedding Goddess Rev. Laurie Sue Was My Dream Officiant
For those looking for a personal, warm, enchanting, custom crafted wedding ceremony for intercultural and eclectic spirituality, I cannot rate Laurie Sue highly enough. After a friend leant me her copy of Laurie Sue's book, Wedding Goddess, I contact her and promptly booked her. I had the most meaningful wedding ceremony I can imagine. My guests were totally enthralled during a half-hour ceremony. Laurie Sue wore an interfaith shawl that showed all the major spiritual symbols and helped everyone at my wedding feel included. She got to know us well before the wedding and now feels like family.
A Truly Personalized, Magical Wedding!
When it came to crafting a unique and special wedding ceremony, Rev. Laurie Sue surpassed all my wildest hopes. She is warm, accepting, funny but utterly respectful, and an absolute delight. She made my wedding unforgettable, and I'd recommend her to anyone looking for a ceremony that is tailored to you and your loved one.
Rev. Laurie Sue -- Amazing, Compassionate, and Professional
Rev. Laurie Sue Brockway officiated my wedding and I cannot begin to sing her praises! I had some family drama, and wanted to get the legal part out of the way before the big ceremony. She spent an hour on the phone with me as I explained the situation and asked for her counsel. She went out of her way to give us an intimate, private ceremony in Bryant Park where we were legally married, and then the big ceremony was a week later in Central Park. It went off without a hitch! More than anything, she understood us as a couple and treated us with great compassion and dignity. I still look back on the experience with a smile on my face. People still talk about how beautiful our ceremony was. I highly recommend her - I can't imagine finding a better wedding officiant in New York City. This is a person who loves her job and takes it very seriously. You will not be sorry.
An Amazing Wedding Officiant
I was married by Rev. Laurie Sue Brockway on 08 December 2003. We had our 10 anniversary last year and our marriage has never been better. This is because of the foundation that was laid when we were married by Laurie Sue. We shaped and created vows that we say to each other sometimes every day or at least every other day. We were both active participants in the process of planning our wedding even though we flew in from London to get married by her. Laurie Sue went out of her way to support us, even arranging to conduct the ceremony in her own space when our venue fell through. I have even been inspired to train as an Interfaith Minister myself as a direct result of my experience with her. Choose Rev. Laurie Sue if you want some who will help you to start your marriage with love and joy and help you to stay that way.
Amazing Wedding Officiant! Exactly the Person We Were Looking For!
I knew Rev. Laurie Sue Brockway was the officiant my husband and I had been looking for the second I spoke to her. Love and warmth radiates through her. She really listened to us to figure out exactly what we wanted and gave us the completely personalized ceremony we both wanted. She seamlessly infused both of our family's backgrounds along with specifics we wanted included into our ceremony in order to provide us with a meaningful and highly personal ceremony. Laurie Sue is open, knowledgeable, patient, and an eloquent speaker. I recommend her with no reservations! She played a huge role in providing me with the wedding of my dreams and I thank her for being part of that special day I will remember forever!
Rev. Laurie Sue - Amazing Officiant
Rev Laurie Sue truly understood us and went above and beyond to make our day unique and reflective of both of us. Her insight, care and understanding of human relations made this process easier and enjoyable. Laurie - Thank you for sharing love's milestone with us. Your spirit of generosity has made our day so very special and memorable!

A Visionary, A Godsend, a Bridge
Rev. Laurie Sue Brockway was an integral resource to understanding marriage. Both my partner and I are non-traditionalists with strong opinions and distinct aesthetic differences. After our first consultation, Andrzej and I agreed that Rev. Brockway was the right person. She helped us focus and vocalize our commonalities – our threads of compassion. Her deep well of knowledge allowed us to gracefully construct an unforgettable moment for our guests and us. There were joyous tears, boisterous laughs, and embraceable surprise--reflections of our quirkiness.

And throughout the process Rev. Brockway helped us breathe. She reminded us to focus on the one important truth: this is our day. The psychology of honoring the moment allowed my husband and I to open up ourselves to the full potential of limitless love. Thank you. Laurie Sue.
Everything We Were Looking For--And More!
We were on the search for an officiant and met with a few, but as soon as i met Laurie Sue -- I KNEW she was the one for us. You know when you leave a meeting and you just have the best feeling? Like it was a slam dunk? That was how we felt after meeting Laurie Sue.

She really worked hard to personalize our wedding without making us say the vows ourselves - loved that! I can't tell you how many friends and relatives came up to me afterward and said it was the best ceremony they had been to because it was a perfect mix of personal and traditional (without being rigid at all).

We have been happily married for 4.5 years now - and we still keep in touch with Rev. Laurie Sue! She readily comments on pictures of our baby on Facebook and it's so special that she is still in our life! I hope she is for many more years to come.